Vue Custom Pools is proud to announce that they are the winner of a 2021 PHTA Award of Excellence. Vue won a bronze award in the Traditional Category for their Burlington project "Sleek Lakeside Lap Pool for the Serious Swimmer."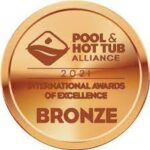 PHTA's International Awards of Excellence program is one of the largest, most well-renowned design competitions in the pool and hot tub industry. These distinguished awards recognize exceptional installations of pools, spas, hot tubs, and water features that showcase the most beautiful, creative, and innovative work in the industry. Each year, hundreds of entries are submitted by builders across the U.S. and the world.
The PHTA Awards of Excellence competition is open to PHTA members who are pool, spa, or hot tub builders as well as installers, designers, retailers, or service companies that receive payment for the submitted project. The judging panel is comprised of industry professionals along with representatives from related fields, including architecture and landscape design.
"We were amazed by this year's submissions. It is truly incredible to see the passion, creativity, and innovation happening in our industry," says Sabeena Hickman, CAE, President and CEO of PHTA. "We received 185 stunning submissions across 20 categories. The judging panel did tremendous work in narrowing down the finalists and selecting the winners. We are proud of all of our 2021 winners!"
The award categories were updated this year to better encompass the wide variety of pools, spas, hot tubs, and water features being designed.
Click here for the list of 2021 PHTA International Award of Excellence Winners.